Energy Security Current Issue Baku-Tbilisi-Ceyhan pipeline: not yet finished and already threatened The long-delayed 1000-mile Baku-Tbilisi-Ceyhan (BTC) pipeline to transport 1 million barrels of oil a day from the Caspian to the Turkish port of Ceyhan is progressing toward completion as early as 2005. But even before the construction is finished, terrorist elements may already be planning attacks on this high quality target. IAGS' Gal Luft discusses the threats.
A strategic approach to pipeline security Aside from BTC, a consortium of Western energy companies has already started the construction of the South Caucasus Gas Pipeline. Thus far the host countries of the pipelines along with the Western energy companies have taken responsibility for the protection of the critical energy infrastructure. Yet, it is clear that by sole attention to the military aspects of the pipeline protection it will be impossible to guarantee their full protection. The host countries can upgrade their pipeline protection units and patrol teams and purchase the most advanced technology in the world. Baku based analyst Fariz Ismailzade argues that to achieve longterm security the communities along which the pipelines will pass be must be involved in the protection process.
Terrorism Goes to Sea New evidence suggests that piracy is becoming a key tactic of terrorist groups. In light of al Qaeda's professed aim of targeting weak links in the global economy, this new nexus is a serious threat: most of the world's oil and gas is shipped through pirate-infested waters. In a recent Foreign Affairs article, IAGS' Gal Luft and Anne Korin analyze the situation and recommend policies to mitigate the risk.
Radical Islam and LNG in Trinidad and Tobago Trinidad and Tobago alone account for 80% of all U.S. LNG imports. Security analyst Candyce Kelshall warns that Islamist terrorist groups are active on the island and might find LNG shipping an attractive target.
Chinese Quest for Crude Increases Focus on Africa Leading oil sector analysts have warned of growing conflict between Western and Asian countries as they seek to outbid each other for key hydrocarbon assets in Africa. These forecasts have been largely based on the expectation that China will become the major player in nontraditional oil and gas producing regions on the continent. IAGS Associate Fellow Cyril Widdershoven discusses.
Terror's Big Prize Since September 11, pipelines, tankers, refineries and oil terminals have been attacked frequently. Except for a sharp increase in maritime insurance premiums in these regions these attacks had marginal strategic consequences. But in at least two cases oil terrorism could have rattled the world.
Needed: Three 1-billion-barrel oil banks
The lesson from the recent oil price jump is that the oil market has too little wiggle room to deal with supply disruptions. It's time for consuming nations to think about providing their own liquidity mechanisms.

On the technology front
Fuel Cell power plant installed at NJ College
The fuel cell will provide 250 kilowatts of electric power as well as heat, to several buildings on the campus.
Biomass-to-Ethanol Progress
The enzyme costs of converting cellulosic biomass into sugars for fuel ethanol production have been reduced approximately twenty-fold with technology developed by the National Renewable Energy Laboratory (NREL) and Denmark based Novozymes, biotech-based leader in enzymes and microorganisms.
EU study: Methanol from biomass - competitive with gasoline
A study of a new patented Swedish technology concluded that the alchohol fuel methanol can be produced from biomass via black liquor gasification at a cost competitive with that of gasoline and diesel.
---
IAGS is a publicly supported, nonprofit organization under section 501(c)3 of the Internal Revenue Code. IAGS is not beholden to any industry or political group. We depend on you for support. If you think what we are doing is worthwhile, please Support IAGS. All contributions are tax deductible to the full extent allowed by law.
Property of The Institute for the Analysis of Global Security © 2004. All rights reserved.
Back Issues
Target: Energy

On September 27, 2004, the Institute for the Analysis of Global Security (IAGS) and the Foundation for the Defense of Democracies (FDD) hosted Target: Energy, a symposium to assess threats to the global energy system and how to address them. The symposium brought together leading experts on national security and energy to address the following questions: how vulnerable to terrorism is oil infrastructure in the Persian Gulf? How vulnerable are energy transportation routes? How vulnerable is the U.S. energy system? and how can the U.S. defend the world's oil and gas market from supply disruptions? The symposium was held at the National Press Club in Washington and moderated by IAGS' director of policy and strategic planning Anne Korin.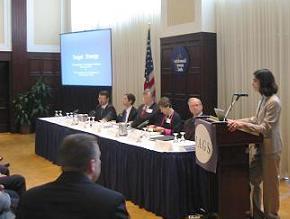 The first panel focused on security at the generating points.

Robert C. McFarlane, former National Security Adviser to President Ronald Reagan, currently Chairman and CEO of Energy and Communication Solutions LLC, opened the symposium with an overview of the challenges facing global energy system. He addressed the threats facing the world energy market and the instruments of stabilization currently at hand. "We either have to increase supply or reduce demand or both," he said. To do so McFarlane advocated increase of oil and gas supply from Russia and the Caspian Sea as well as rapid development of the LNG market. He also said the U.S. and other oil consumers such as Europe and the Asian countries, should increase their storage capacity to compensate for the gradual erosion in OPEC's spare capacity. This would have the long-term benefit of keeping the market liquid. "With more storage we can get over supply disruptions more easily." At the same time he advocated major effort to reduce global demand for oil. "We need to develop technologies that will get us away from oil and gas...We are going to have a tough road ahead. Disruptions of all kinds are going to happen every year in the foreseeable future."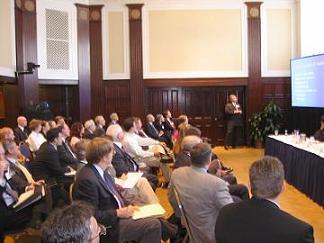 Neal Adams: "the weapon is a sudden disruption in oil supply"

The first panel, moderated by Claudia Rosett of FDD, focused on security at the generating points. Neal Adams, author Terrorism & Oil gave a chilling overview of the relations between terror and oil. "Find anything in this room that is not made from oil," he challenged. According to Adams the world is suffering from a chemical addiction and this addiction can be exploited by those who want to disrupt life in Western societies. "Oil is an effective weapon. The weapon is a sudden disruption in oil supply. This immediately translates into a shock to global economy." Adams noted that few days after September 11 the largest industrial accident in history happened in a fertilizer plant in Toulouse, France, and remarked, "It wasn't an accident; it was an act of terror." He concluded that terrorists are known to copycat successful tactics and are likely to strike soon against the complex infrastructure of oil facilities.

Dr. Gal Luft, executive director of IAGS, said that since September 11 it has become increasingly evident that terrorist organizations of global reach like al Qaeda have identified the world's energy system as a major vulnerability and a certain way to deliver a blow to America's oil dependent economy as well as global economy at large. "We are facing a new era in the war on terror in which terrorists can hurt us without coming to the United States. They talk about our vulnerabilities openly," Luft said. He noted that throughout the world oil installations such as pipelines, refineries, processing facilities, tankers and oil employees are being attacked while threats to our power grid are mounting. He presented the risks against oil pipelines and tankers as well as the potential risks at strategic bottlenecks such as the Straits of Hormuz, Malacca and Bab el Mandeb, where there are major Islamist populations. To deal with supply disruptions and price fluctuations, Luft said, it is necessary for energy companies to increase their investment in security measures. But tactical solutions are not enough. Major energy consumers and producers should thus focus on projects designed to reduce some of the traffic in dangerous chokepoints. The "Strategic Energy Land Bridge" a 150 mile pipeline traversing the Kra isthmus in Thailand and bypassing the Strait of Malacca, is one such example. Most important, Luft said, "oil consumers should also begin to replace imported energy with next generation energy sources derived from domestic energy resources. Such a shift will not only increase energy independence for the free world but will also minimize the need to transport oil across the globe--and thus reduce the world's vulnerability to an energy Pearl Harbor."

Dr. Ariel Cohen, Research Fellow on energy security at The Heritage Foundation discussed the situation in major oil producing regions such as Russia, Central Asia, Nigeria and Venezuela. Just returning from Russia where he had met with President Vladimir Putin, Cohen's impression is that Russia is struggling to protect itself from the scourge of terrorism. "The Russian security infrastructure is inadequate to protect thousands of miles of pipelines, refineries and terminals." A similar problem arises in the Caucasus. "In the northern Caucasus we have seen a growth of radical Islam," he said. This is particularly important to energy markets since major pipelines go near or are adjacent to this area. In Nigeria, Cohen warns against an influx of Arab Gulf money which finances Wahhabi Islam. According to Cohen a new group called "Followers of the Prophet" is working to establish a Taliban style country in northen Nigeria. "People travel and so do terrorists," he said referring to the possibility that such terrorists might decide to target the country's oil wealth in the south. "In Iraq we see a factory of anti oil terrorism. The expertise that these guys get in blowing pipelines will be quickly transmitted and broadcasted throughout the world...What we don't have is adequate analysis and intelligence collection. There are not enough dedicated analysts and policymakers focused on energy security. What we need is a global effort which includes intelligence gathering, threat audits and aggressive pursuit of terrorists," he concluded.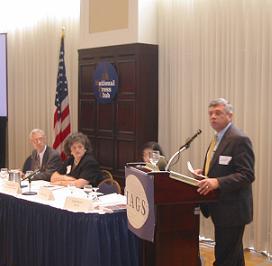 Steve Floyd: "The likelihood of a release of spent fuel or any radioactive material is extremely low."

The second panel addressed the threats at home and how they may be mitigated. Kendra Martin, Manager of Security Issues at the American Petroleum Institute (API) discussed ways to securing refineries and pipelines in the U.S. With 400 offshore platforms, 140 refineries, 170,000 gas stations and 150,000 miles of liquid pipelines, the U.S. is a target-rich country. Martin detailed the steps the industry is taking to enhance the security of its installations and the public-private partnership needed to meet this end. She outlined the regulatory measures and the interfaces between the energy companies and the Department of Homeland Security. She noted that to achieve energy assurance and energy reliability it is important to have a good system of information sharing between the industry, government and the intelligence community.

Lou Leffler, Manager of Critical Infrastructure Protection, North American Electric Reliability Council (NERC,) discussed the physical and cyber security threats to the electricity grid. "Our main task is the protection of critical assets...These are assets that if destroyed or rendered unavailable, could have the ability to deny power to a large number of customers." The nature of the grid is such that an attack in one part can send tremors throughout the system affecting millions of customers. "One of the biggest weaknesses of our system is the interdependency among utility companies." Leffler also mentioned the shortage of spare equipment as potential vulnerability: "There is some of it but not a lot," he said.

Steve Floyd, Vice President for Regulatory Affairs at the Nuclear Energy Institute (NEI) described how the nation's 103 nuclear power plants, which together produce 20% of U.S. electricity, are protected. Since September 11 the industry has taken many steps to bolster security in its installations. The number of security officers has grown 60% and stands now at 8,000. These guards receive robust training, 40% more than the average law enforcement officer. Floyd also discussed the findings of a study conducted in 2002 on the ability of nuclear reactors to sustain an impact of a Boeing 767 jetliner, reassuring the audience that "The likelihood of a release of spent fuel or any radioactive material is extremely low."

Concluding remarks were delivered by James Woolsey, advisor to both IAGS and FDD, who was particularly concerned about the state of the electricity grid. "The grid, because of its combination of private and public ownership...and the nature of the system is a very serious and urgent problem for the country to focus on...There is a great deal of urgency." Like others, Woolsey agreed that the best way to protect the U.S. energy system from the threat of terrorism is to embark on a massive effort to reduce dependence on oil in the transportation sector. He described a set of real world solutions that can accomplish this goal within a short period. He noted that while hydrogen fuel cell vehicles are away in the future, hybrids and plug in hybrids are already coming into the market and if combined with capabilities to run on alcohol fuel could significantly reduce demand for oil. Alcohol fuels can be derived from biomass and from coal, both resources the U.S. and rising oil consuming nations such as China and India have in abundance.

Top