Terror's Next Target Attacks on the West's oil and gas infrastructure -- from production facilities to pipelines and tankers -- are likely to be the next "mega" target of terrorists, and could wreak havoc with the world's economy, according to an in-depth IAGS analysis of the susceptibility of the energy industry featured in the latest Journal of International Security Affairs (Winter 2004).
Minding Its Business Saudi Arabia, which has demonstrated its willingness to use its vast oil reserves as a foreign policy tool, has not acted to aid U.S. efforts to rebuild Iraq.
Fencing in looters and saboteurs in Iraq Too many people in and outside of Iraq are hoping to deny Iraq a better future through a campaign of sabotage and plunder of the country's neglected oil facilities. The problem, and possible solutions.
Energy security and liquefied natural gas Demand for natural gas has increased as have the security vulnerabilities presented by liquefied natural gas terminals and tankers.
Under the Radar
Oil, terrorism and drugs intermingle in Colombia
Seventy U.S. Special Forces soldiers are training Colombians to protect an oil pipeline.
Japan's struggle to secure future oil supply
Energy dependent Japan looks to Iran for oil, causing tension with the U.S.
Chad-Cameroon pipeline project put to test Will the pipeline, partially financed by the World Bank, improve the lot of Chad and Cameroon or exacerbate existing corruption and strife?
Natural resource curse hits São Tomé
A tiny West African country illustrates a well known problem.
On the technology front
Fuel Cell Locomotive for Military and Commercial Railways
An international consortium is developing the world's largest fuel cell vehicle, a 109 metric-ton, 1 MW locomotive.
Fuel cell power plant installed at NJ Sheraton
A stationary fuel cell will supply 250 kilowatts of electric power as well as heat to the Sheraton Edison Hotel, accounting for about 25% of the hotel's electricity and hot water.
Fuel cell scooters for Europe and China
Palcan's fuel cell powered scooter is designed to address the world's need for a low-end mass transport vehicle.
U.S. Air Force to get fuel cell bus
Fuel cell powered thirty-foot hybrid bus to be stationed at the Hickam Air Force Base in Hawaii.

---
IAGS is a publicly supported, nonprofit organization under section 501(c)3 of the Internal Revenue Code. IAGS is not beholden to any industry or political group. We depend on you for support. If you think what we are doing is worthwhile, please Support IAGS. All contributions are tax deductible to the full extent allowed by law.
Property of The Institute for the Analysis of Global Security © 2003. All rights reserved.
Back Issues
Study: LNG - Not in my backyard

In recent years America's gas market has been primed for volatility largely because of declining domestic supplies. To keep prices in check and limit the global influence of the oil cartel, many have advocated increasing imports of liquefied natural gas (LNG), natural gas cooled at extremely low temperature and high pressure until it contracts into a liquid which then can be transported worldwide by tankers. The liquid is unloaded at regasification terminals which turn it back into gas fed into pipelines for distribution. The U.S. Department of Energy expects LNG to account for 15% of U.S. gas consumption by 2025, compared to 1% today. Consequently, LNG imports into the U.S. are expected to grow by about 8.2% a year over the coming decade. U.S. Federal Reserve Bank chairman Alan Greenspan testified repeatedly before Congress that LNG was the only solution on the horizon for the projected chronic natural gas shortage.

However, LNG is highly volatile and in the era of terrorism may offer more opportunities for terrorist strikes on vulnerable energy infrastructure targets located near residential neighborhoods. One such disaster scenario was developed by James Fay, a professor emeritus of mechanical engineering at Massachusetts Institute of Technology, a former chairman of the Massachusetts Port Authority and a member of the Union of Concerned Scientists. Fay is indeed concerned. He predicts parts of Rhode Island and Massachusetts could be devastated by an attack on LNG tankers regularly passing through navigation canals close to residential areas in Boston and the Rhode Island shoreline on their way to the terminal in Everett, Mass.

In an interview with Energy Security Fay said a terrorist attack by a boat bomb - such as the one used against the USS Cole in 2000 or the French tanker Limburg off the coast of Yemen in 2002 - could cause at least half a cargo hold's worth of LNG to seep out of the ship and ignite. "In just over three minutes, the fire could spread two-thirds of a mile from the ship," Fay said. "There is nothing safety officials can do in such a case. They would have no time to evacuate people or to put out the fire." Fay also predicts damaging thermal radiation within a mile radius of the tanker which could set fire to thousands of homes and cause significant losses of blood and treasure. "Like the attack on the World Trade Center in New York City, there exists no relevant industrial experience with fires of this scale from which to project measures for securing public safety," he says. Fay insists the methodology of his modeling is sound.

Fay's analysis, as well as that of other experts, has sparked a debate in New England as well as in other states where LNG terminals operate or are under consideration. In addition to the Everett facility there are operational plants at Cove Point in the Chesapeake Bay, Maryland, in Savannah, Georgia, and in Lake Charles, Louisiana. LNG tankers are very conspicuous. Their distinctive storage tanks jut like humps on the decks; their identity cannot be mistaken. Terrorists attempting to target such a ship will have no problem identifying it. Furthermore LNG installations can be attacked onshore by truck bombs with similarly damaging consequences.

Alabama Governor Bob Riley sent letters to the Federal Energy Regulatory Commission and the Alabama Port Authority saying he will block sale of state-owned land to ExxonMobile for use as an LNG terminal "until an independent safety study has been completed and evaluated," specifying it should be "a study that considers the most credible worst-case scenario." Gov. Riley's letter states that "Only in this way can [..] all parties concerned by apprised of the actual possible outcomes of an accident or terrorist attack."

Boston Mayor Thomas Menino recently decided to rid Boston Harbor of its long-standing LNG facility over safety concerns. "Everyone should be concerned about it because the Coast Guard, Boston fire department and other agencies do not have the equipment if something did happen with an LNG tanker. Everyone says there is no problems, but what happens when something does happen?" Menino said this past December when the national threat level was elevated to orange. Menino and other representatives of Boston-area communities had mounted an unsuccessful lawsuit to halt the LNG operations after Sept. 11, 2001. Professor Fay agrees. "Federal officials are at a state of denial right now. They ignore the scenario of tanker spill as a problem they have to deal with." Menino has no jurisdiction in the harbor so the tankers are still coming.

The Coast Guard however is not ignoring the threat. It has taken some precautions to minimize the risk of attack against LNG tankers. Fast escort boats shepherd each gas tanker as it travels to the terminal. A security zone extending 500 yards on each side, two miles ahead and a mile behind the tanker is imposed and other vessels are instructed to give the tanker a wide berth during its passage and 12-hour unloading process. Violators face arrest, fines of up to $25,000 and prison terms of up to 10 years. But these penalties are unlikely to deter suicide terrorists such as those who flew planes into the World Trade Center and the Pentagon. It is not clear what procedures the Coast Guard would be willing to use once a terrorist boat penetrates into the security zone. Nor it is clear how rapidly security officials could respond to the threat. After all, well armed and vigilant military targets like the USS Cole could not prevent such an attack.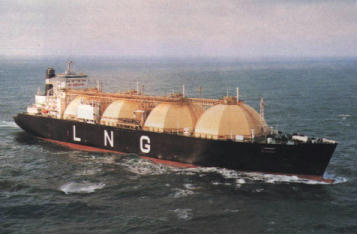 LNG tanker


The safety concerns surrounding LNG installations pose difficulties for energy companies attempting to build new terminals. No such terminals have been built in the U.S. for two decades, but applications to construct 30 more have been made in recent years. Only half a dozen are likely to materialize in the next decade. ExxonMobil has announced plans to build a $600 million plant on the Texas coast and wants to build three more in other states. ChevronTexaco announced plans to construct an off the coast of Baja California, Mexico and Royal Dutch/Shell and BP are among other companies driving to build new terminals in California, Texas, Alabama, Florida, Mexico, Nova Scotia and other locations. In most of these places opposition by local communities is mounting and it is not yet clear which consideration will prevail: public safety or economic need.
Also see: Threats to oil transport
Energy security and liquefied natural gas
Greenspan warns on implications of natural gas shortage
The U.S. faces a shortage of natural gas Top